We will be making a conscious effort to wish everyone
a MERRY CHRISTMAS this year ...
Our way of saying that we are celebrating
the Birth Of Jesus Christ.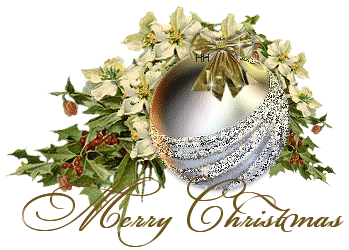 To one and All...
Jesus is the reason for the season!
David & Sharen
HAPPY NEW YEAR!!!
We pray that all your goals are within your reach. We wish you good health, good friends, and time to enjoy your life.
2009 was a good year for us. Our health could be better, but canít complain. The only thing it has made me cut back on traveling.
David still golfís in the summer, but has slowed down as far as the number of times he went this last summer. He did do more fishing, which he really enjoys. He got to go with Greg over Labor Day weekend. They both had a good time. They plan on going bass fishing in the spring and maybe try the Labor Day trip again.
March, April, and May we celebrated Jim, Amanda, and Davidís Birthdays.
Amanda started a different job Dec. 1 and likes it better. She works a regular work week, no nights, weekends, or over time. Plus more pay and vacation. She went to Atlanta last summer for a week, while Greg worked on remodeling their bathroom.
Greg is still with the University of Wisconsin as a computer specialist. He and his Dad worked on remodeling his bathroom over the summer. He did get to go fishing with his Dad. He caught the largest Muskie he has every caught. He is now talking about going ice fishing on a lake near him.
Greg and Amanda spent Thanksgiving in Atlanta with Amandaís family. Then here for Christmas
David and I went to the Gurto Family Reunion in July. It was the 38 reunion, we enjoyed visiting with all the family members that where there. I am hoping that we can get 100% in two years for the 40th. That would be great. So to all the family members Please try to set the date and time aside for the reunion. That was pretty much it for traveling for the year.
I had a chance to get together with friends I hadnít seen in many years, JoAnne from Ky., and Sandy from Az. Karen and Bev from Wi. I really enjoyed seeing them again.
Sept. we celebrated Greg, Chris, and my birthday. Oct. David and I celebrated our anniversary.
Nov. 5th I went to Holy Hill to light candles for family, and friends that have passed away. Jim was here for Thanksgiving. We did take a trip to Ho Chunk to help feed the Indians. Let me tell you they ate well for Thanksgiving. I alone feed a whole tribe.
Dec. David and I lit candles in memory of Pam, we also released balloons. Greg and Amanda where here for a few days over the Christmas holiday. They went with David on Christmas day to the cemetery and by Chris. Dec. 29th David and I went to the cemetery.
Today is the last day of 2009, tomorrow will be 2010, and again we wish you a healthy new year. Take care of yourselves and those you love. Love Sharen and David